This 3-book set will provide hours of learning enjoyment for students visiting the media center.
Special for Public School Media Centers
Save $15
3 Books for $110 plus S&H
Buy Now
Allow 6-8 weeks
for delivery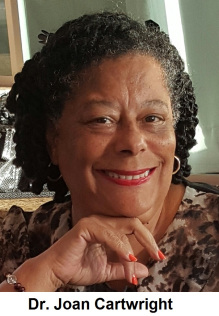 Dr. Cartwright has taught over 10,000 students in Broward and Miami-Dade Counties from her books through grants from Broward Schools, Broward Cultural Council, Arts4Learning, and Miami Beach Gala.
She is available for presentations. Send email to wijsf@yahoo.com
Dr. Cartwright is the founder and Executive Director of Women in Jazz South Florida, Inc. a 10-year-old non-profit with the mission of promoting women musicians, globally.
BOOKS BY DR. JOAN CARTWRIGHT, INC.




Amazing Musicwomen by Vocalist and Music Historian Dr. Joan Cartwright traces the origins of Blues and Jazz from the West Coast of Africa to the clubs of Harlem and beyond. This book highlights the life, times, and tunes of America's premier Blues and Jazz Women from Bessie Smith to Betty Carter, Tania Maria, and Toshiko Akiyoshi.

Grade Level: 3-12

Standards: LA.A.1.2, LA.A.1.3, LA.A.1.4, SS.A.1.2, SS.A.1.3, SS.A.1.4, SS.D.2.2, SS.D.2.3, MU.A.1.2, MU.A.1.3, MU.A.1.4, MU.A.2.2, MU.A.2.3, MU.A.2.4, TH.A.1.2, TH.A.1.3, TH.A.1.4

Disciplines: Music History, Biographies, Women's Studies

Cost: $40 Hard Cover

So, You Want To Be a Singer? is designed for Elementary School I & II, Middle School I & II and High School I & II students, especially those attending Performing Arts Schools. In this book, Dr. Cartwright guides students through the 20 chapters, educating students on the business of the music industry and the materials they need to be successful in this business. There is role playing, e.g. agent vs. artist; promoter vs. venue manager, etc. Students learn everything from posing for a headshot to performance and recording. They learn about rehearsing with musicians, negotiating a singing or performance job and promoting themselves. The book is required reading and covers several subjects on music theory, history, composition, and business. Students will be able to converse, intelligently, about music as a profession and agent for income. They will understand the importance of reading contractual agreements before signing them and protecting their musical production with copyrights and publishing. They will know how to conduct themselves with other musicians.

Grade Level: 3-12

Standards: SS.A.1.3, SS.A.1.4, MU.A.1.3, MU.A.2.3, MU.A.3.3, MU.B.1.3, MU.B.2.3, MU.C.1.3, MU.A.1.4, MU.A.2.4, MU.A.3.4, MU.B.1.4, MU.B.2.4, MU.C.1.4, TH.A.1.3, TH.A.1.4

Disciplines: Dance, Music, Visual Arts, Theatre

Cost: $40 Hard Cover

Songs For My Children is a full-color book of four songs composed by Dr. Joan Cartwright with brightly colored photographs.




1. Butterfly




2. Funky Monkey




3. Winter's Comin'




4. UNESCO Song

Grade Level: 3-5

Standards: DA.A.1.1, DA.A.1.2, DA.A.1.3, DA.A.2.1, DA.A.2.2, DA.A.2.3, MU.A.1.1, MU.A.1.2, MU.A.1.3, MU.A.2.1, MU.A.2.2, MU.A.2.3, MU.B.1.1, MU.B.1.2, MU.B.1.3, MU.C.1.1, MU.C.1.2, MU.C.1.3

Disciplines: Dance, Music, Visual Arts, Theatre

Cost: $45 Hard Cover Full-Color

High Schools get this book instead of


Songs For My Children

A History of African-American Jazz and Blues

From the coast of West Africa, captured people brought a new music to the shores of North America. That music became blues and then jazz and was the voice of freedom. But the commercialization of this music throughout the twentieth century has not benefited the innovators as much as the imitators, publishers, and producers of recordings, concerts, and festivals, worldwide. The three essays in this book examine the cultural politics involved in the production, promotion, and critique of African-American Jazz and Blues in America and abroad. It contains interviews with infamous and knowledgeable musicians including Quincy Jones, Abbey Lincoln, and Dr. Tim Walters, former head of the jazz department at Florida Atlantic University.

Grade Level: 9 -12; undergrad; post-grad

Standards: SS.A.1.3, SS.A.1.4, MU.A.1.3, MU.A.2.3, MU.A.3.3, MU.B.1.3, MU.B.2.3, MU.C.1.3, MU.A.1.4, MU.A.2.4, MU.A.3.4, MU.B.1.4, MU.B.2.4, MU.C.1.4, TH.A.1.3, TH.A.1.4

Disciplines: Music, History, Communications

Cost: $45 Hard Cover