Emme Kemp was a 3-year-old prodigy. She grew up with the good time gospel and blues of Chicago, Emme recorded with the ragtime piano man Eubie Blake. Prior to her move to New York, Ms. Kemp lived in California and coached with the eminent pianist Egon Petri.
Her Jazz anthology goes from classic to modern. She has appeared on numerous college campuses. Her lectures, poetry and writings, form a significant overview on popular culture.
Emme sings and plays her original compositions "Eyes on Harlem" and "Someone To Sing To". She pays tribute to the music of Harold Arlen, Gershwin and Ellington on her new album "Try a Little Tenderness" with liner notes by Dick Hyman, Barry Harris and Randy Weston.
http://home.att.net/~emme.kemp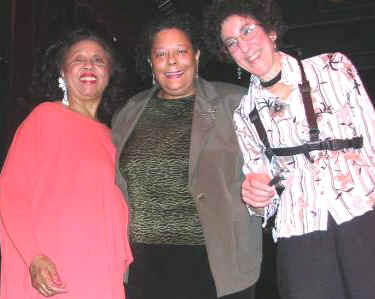 Joan met Emme Kemp playing piano, in Bern, Switzerland, in 1994. They met, again, on November 19, 2005, when Carole Sudhalter (sax) featured Emme in Joanís hometown, Jamaica, Queens, for a Women Composerís Concert