Why Women in Jazz South Florida?
Women in Jazz South Florida, Inc., is a 501(c)(3) non-profit, educational organization that promotes women musicians, globally, through events, concerts, performances, clinics, lectures, workshops, articles, interviews, newsletters, courses, contacts, research, history, archives, websites, film, audio and video recording, and recognition.
END PATRIARCHY NOW: MESSAGES IN WOMEN'S MUSIC | Conscious Inclusion of Women Musicians
Dear WIJSF:

These figures are shocking but, unfortunately, not surprising. However, rather than insist on the level of wages or fees paid, it is essential to underline that women make up 53% of the tax payers, globally. Therefore, they should be present, when decisions are taken, in all fields and for all reasons - which include the performing arts.

If women are paid less, it is because there is nobody defending them. If their works are presented less often, it is because there is no strong ongoing lobby to insist that they are put into the forefront.

Part of the problem is the lack of motivated organizations in the arts (performing, visual, electronic) pushing to obtain mainstreaming and empowerment for women and here the problem is ours: if women are not prepared to fight, then victories won't be won.

Clearly women in music is a part of this problem. BUT we do have an international network - the only one in the field of the arts - and this network deserves greater recognition for what it tries to do, and has achieved, and other women (especially younger women) should be encouraged to sign on to their local or national organization and to undersign petitions, attend conferences, performances by others etc. etc. etc.

I am sure you have put the figures onto your websites. We are putting it into our March "Notiziario" and will also put it onto our "Facebook" pages.

I would suggest that you encourage all your members to do likewise.

Let us circulate the bad news - perhaps it will convince some women players that they should be out rooting for their entire category and not just for themselves.

Patricia Adkins Chiti, Presidente
Fondazione Adkins Chiti: Donne in Musica
IMC - ONG internazionale in partnership ufficiale con l'UNESCO
adkins.chiti@donneinmusica.org
Message from the Founder: Joan Cartwright - Documentation is the Key!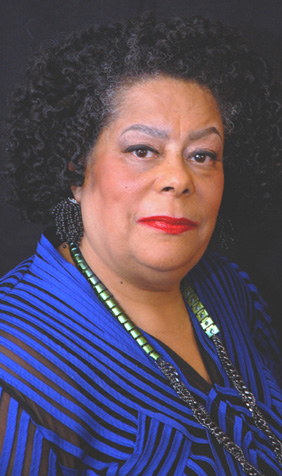 After performing solely with men for over 30 years, with the exception of Kim Clarke, Bertha Hope, Carline Ray and Paula Hampton, with whom I performed in New York City in 1982-84, in just a couple of concerts, I decided to found Women in Jazz South Florida, Inc., in March 2007, to identify and promote women musicians. As a vocalist, I found gigs often enough, especially, when I moved to South Florida from Harlem. But only a few women musicians were in this area. Lynn Miller played piano for me once or twice. There was a female bassist living here but a car accident cut her career short. There were no female drummers or horn players that I knew of, even in the younger generation of musicians. So, it was clear to me that someone had to bring this deficiency to the attention of the music scene. As I researched this phenomenon, I began attracting women musicians, still mostly vocalists. Few were even writing their own music as I'd been doing since 1977, in Philadelphia, where I completed my degree in Music and Communications at LaSalle University.
Ever since 1997, I compiled biographies in my Jazzwomen Directory. At first, this was a very short list that I developed into a presentation entitled Amazing Musicwomen. With the help of Dr. Dorothy Orr, the Interim Superintendent of Broward County School Board, I met with Damian Huttenhoff, Director of the Student Enrichment in the Arts Program (SEAS). He advised me to submit a grant proposal to take my presentation into schools. So, in September 1997, through a $6,000 grant, I went into several K-12 schools in Pompano Beach, Fort Lauderdale and Hallandale Beach with pianist Lynn Miller. I used enlarged images and photographs of the women who pioneered Blues and Jazz in America.
In 1998, I wrote the grant proposal, again, and received $5,000 to go into 10 schools, accompanied by Dr. Lonnie Smith on keyboards. That same year, I produced Gaiafest - A Celebration of Mother Earth with Women in Jazz. This was an outside concert at Delevoe Park and an inside concert at the Broward Center for the Performing Arts, featuring several female musicians from around the country. Through a scholarship fund of the local black newspaper, I raised $106,000 in cash and in-kind gifts for the production. Though it wasn't well attended, the women did a wonderful job and we were able to honor legendary vocalist Dakota Staton.
Discouraged by the seeming failure of Gaiafest, I did not write a grant proposal for 1999. But, in 2000, I submitted the next grant proposal. Although I requested $5,000, I was granted $3,750. So, instead of going into 10 schools, I went into five schools with pianist Mari Menell Bell, whom I learned several years later wrote a proposal for the same grant that I did and knocked me out of the running. Her project was about jazz history, including men, making it impossible for me to get the grant again to teach about Women in Jazz and Blues. Although I felt very betrayed, I never confronted her about going behind my back for this grant. There was little need to do that, since Broward County is notable not only for being racist but sexist. I moved to Atlanta in June 2003, where I lived until May 2006, when I travelled to Shanghai, China, to perform for five months. In September 2006, I presented Amazing Musicwomen at the International School of Tianjin for several teenaged students. I was accompanied by their music teacher, a gentleman from England, who knew all the songs in this program, including "Darktown Strutters Ball" (Alberta Hunter), "A Tisket A Tasket" (Ella Fitzgerald) and "God Blessed The Child" (Billie Holiday) amongst others. The program was well received there, so, when I travelled to Tokyo, Japan, for three weeks, I was able to present Amazing Musicwomen at Tokyo International School, accompanied by two wonderful Japanese pianists Aoi Katoh and Miyuki Saito.
In December 2006, I moved back to Fort Lauderdale, and in March 2007, at the encouragement of one of my friends who worked for Broward Libraries, I incorporated Women in Jazz South Florida, Inc. to differentiate our organization from International Women in Jazz in New York City and Women in Jazz in Austin, TX. It took eight months to complete the application for 501(c)(3) non-profit status with Internal Revenue. Then, it took another two years of doing small programs in the community to be able to apply for a grant from Broward Cultural Division. In May, 2010, we were awarded our first $5,000 grant for Community Musicwomen that entailed four very different events:
Jamaica Hill Jazz Jam

The Business of Music Seminar for Students

Sing-Along at a Senior Center

Workshops at an Elementary and Middle School
MORE FUNDING
Through a grant from the Friends of the African American Research Library and Cultural Center in Fort Lauderdale, I assembled an 8-piece ensemble for a concert at that venue, telling the story of Amazing Musicwomen. Beside a trio, flautist, and saxophonist, I was joined by two other vocalists - Sandra Kaye from Dallas, TX, and Jus' Cynthia from Hollywood, FL. All of the women became members of WIJSF, INC. The two men refused to pay the $35 annual membership.
Eventually, I turned the lecture about 10 Women in Jazz and Blues into this book, Amazing Musicwomen that is available at my book store at www.lulu.com/spotlight/divajc. The book contains short bios of 40 women musicians and singers and is a great resource for students and adults alike. My other book that is great for students is entitled So, You Want To Be A Singer - A Manual for Up and Coming Divas, Musicians and Composers. This books recaps the lessons I've learned over a 20-year period of being a performer, composer, producer and promoter of myself and others.
Women in Jazz South Florida, Inc. is a 501(c)(3) non-profit, educational organization that promotes women musicians, globally, through events, concerts, performances, clinics, lectures, workshops, articles, interviews, newsletters, courses, contacts, research, history, archives, websites, film, audio and video recording, and recognition.
We put women musicians to work and get their music heard by multitudes! It took five years to gather the members of the Amazing Musicwomen Ensemble. For 34 years, I worked with male musicians. Now, I can boast a dynamic group of females who love working together to bring to audiences the story of legendary music women in jazz and blues. See our Musicians page. Click photos for gallery.
In May 2012, I have the opportunity to present my paper "Conscious Inclusion of Women Musicians" at the British & American Studies Conference in Timisoura, Romania. This project is being funded through donations from friends and fans at United States Artists. ~ Joan Cartwright
The accounts below illustrate further the need for conscious inclusion of women musicians.
February 7, 2007
Hello Joan!!!
I am not sure if you remember me, you probably would remember my face. My girlfriend and I used to come to see you all the time when you were regularly performing at the jazz place in Hollywood ; we were Wanda & Wilma. I also attended a seminar you held at FIU and spoke with you regarding my experience at Bethune-Cookman College where I was the first female trumpeter there, and the resistance and backlash I had to deal with because people did not want to change the all male tradition of the marching band.
I believe you had a jazz series you were organizing at that time, and you asked me to remain in touch; however, I admit I am not sure where I kept your information, probably in a safe place.
I just ran across your website as I was surfing the Net, and was so delighted! Ive had you in mind as I was just recently speaking with a gentleman who is on the board of directors of a music organization and I was asking whether you ever performed for them.span>
In the meantime, I would love it if I can speak with you because I am now the president of the Bethune-Cookman Alumni Band and on behalf of this organization, I would love it if you would be willing to collaborate with us with regard to writing some grants, setting up and promoting some events, and/or even serving on our board of directors.
I am sure you are extremely busy, but at your convenience, I would greatly appreciate a telephone call to set up a meeting.
In the meantime, I hope all is well with you.
Very truly yours,
Wanda Wright
Alvin Queen wrote:
Re: The Permanent Delegation of the U.S. To UNESCO
http://unesco.usmission.gov/CL_04162007_JazzGallery.cfm
Alvin Queen,
It is wonderful that you are an ambassador for Jazz to UNESCO. Just one problem with this.
NOOOOOOOOOOOOO Woman Musician (vocalist or
instrumentalists).
This is UNACCEPTABLE! I am really disappointed.
My song does NOT change. Women hold up half of the sky and they've been instrumental in bringing Jazz music to the world, equally as much as men have.
This needs to be rectified as soon as possible.
Joan Cartwright, Founder
WOMEN IN JAZZ SOUTH FLORIDA, INC.
Joan,
Does this mean I must have a women in my group, if I decide to use a man. I was contact by a friend of mind to put this group together and that's what I did, There no reason to expose this to the rest of the world, using me as an example.
I would like for you to explain this to me more clearly, because it seams very negative on my behalf.
Best regards
Alvin
Dear Joan,
I concur completely with your observation and related comments. It certainly is not negative to simply point out the obvious - and sexual imbalances in music worldwide needs addressing yesterday. Until the problem is solved there is absolute no reason to accept "business as usual" anytime before this brand of prevailing injustice is rectified.
Peace profound,
Karlton Hester
To: Joan's comment below
" NO COMMENT" -- Alvin Queen
I do not know the circumstances of how this came about.
What I do know is that women are systematically omitted from the Jazz scene in almost every way possible. This MUST be rectified. Musicians must understand the importance of including women in these situations. Women have been left out for far too long.
If you feel my response is "negative", imagine how we feel when we see these situations happening constantly and NO ONE is speaking out about it. As the founder of an organization with the mission of promoting women in jazz, I believe it is my DUTY to bring this omission to light.
I do NOT mean to insult or downgrade you in anyway because I had no idea how the appointment came about and you know that. What I do know is that all musicians must consider this a serious issue. The world consists of men and women. The jazz scene consists of men and women. However, women are left out so often that it is now "normal" to omit them at every turn. If you were asked to put the band together, you could have invited a woman to join you as a singer. It is only fair that women are represented, globally, on the Jazz Scene.
I am sure I am not the only person you send the link below to. Others need to know what is happening, when it is happening. We live in a high-tech world where information is disseminated, rapidly. Hopefully, inequities like this can be rectified just as rapidly.
Dear Mr. Queen:
I really appreciate the time you took to answer me so thoughtfully. Even more, I appreciate your forwarding my comments to others. While I can understand why any band leader might not use any singers, I'm not clear on why women musicians would not be considered, but I compliment you for your honesty.
Joan Cartwright had no idea that I would write you. You are among many people I have written and to whom I write on an ongoing basis, not only in my own interests, but on behalf of the issue of need for the inclusion of women. As for whoever pays a salary, when a delegation is publicized as a US Delegation, then those of us who lack access to the opportunity made available to others should bring the issue to the attention of both those who do the hiring or appointing and those who, albeit unintentionally, are beneficiaries of institutional sexism in this case. I act on behalf of people of color subjected to racism in much the same way.
I have taken the time to read your biography and listen to the 2 songs in mp3 files on your website. Of course, they are great. Your intro to Nutsville reminded me a bit of Art Blakey's intro on Night In Tunisia which I saw him perform at the original Birdland many years ago--though Nutsville is a quite different tune. I enjoyed them both.
Like you, I come from inner city projects, in my case from Philadelphia. I had uncles who were Baptist pastors and come from a long line of Gospel singers there. But I can assure you that there are many women with talent who are simply shut out because we are women. It was true then and it's true now. For that reason, I have begun a global effort to discourage the hiring of bands that never hire women. That is not to say that any band must always hire women, but that if women are never hired, consideration should be given to the possibility that women are being excluded for reasons unrelated to music. I am simply promoting equitable consideration. The idea seems to be catching on. Like Dr. Martin Luther King, Jr., I have a dream that one day women will be accepted for their talent, not excluded for their gender.
Again many thanks for you outstanding courtesy in responding to me. I do appreciate that.
Sincerely,
Suzanne Brooks
Dear Mrs. Brooks,
I will try to answer some of questions even thou I don't know if it would help. I have been in the business for over 40 years and I have rebuild my life over here living in Geneva, Switzerland with out the help of any Americans a broad.
My salary does not come from America. I have nothing against adding women in my band, but I definitely do not use women within the format of my music (specially) singers and when I decide to use one on either performance or recording, I will definitely be sure to let you know.
The group which was put together are locate people who are also living in Europe in are the best of friend that I have over here who did such a beautiful job with me for UNESCO and I will use them again if I have to.
I feel that this definitely ridiculous on the behalf of my so call friend Mrs. Cartwright because she feels eliminated, so she deciding to try to create problem for her own people who just mite try to give her a chance, but at this level I don't believe this will ever happen.
I will be sure to forward this email message along with the one that Mrs. Cartwright has addressed to me with all your email address on it to UNESCO and also the American Embassy in Paris, just to see if they will help all of you or put your name on a list in not doing anything for you, that's up to them.
I hope that I was able to answer some of your questions and my thought are still the same, have nothing against women, but my group does not require a female vocalist.
Thanks once again for your time and patience
Alvin L. Queen
Geneva, Switzerland
Alvin Queen wrote:
http://unesco.usmission.gov/CL_04162007_JazzGallery.cfm
www.alvinqueendrummer.com
www.myspace.com/alvinqueendrummer
"Melba Liston is one of the best jazz musicians, not just one of the best women in jazz." --Junior Mance
". . .people did not want to change the all male tradition of the marching band."
-- Wanda Wright, President
Bethune-Cookman Alumni Band
Organist Trudy Pitts handled herself formidably in an arena of musicians made up mostly of men.
Tony Monaco, Pete Fallico (Doodlin' Lounge), Gen Ludwig, Trudy Pitts, Lonnie Smith
Joan Cartwright has been the leader of hundreds of musicians in her band JAZZ HOTLINE